【Rayclass | 锐课堂】Fiber Delivered Direct Diode Lasers
Date:2020-04-02Source:Original article
无需出门
只要打开手机就能学习
不用长时间观看视频教程
分分钟就能得到关于光纤激光器的满满收获
嘿
你们一直在催更的
第26期
【Rayclass | 锐课堂】终于来了
本期【Rayclass | 锐课堂】我们来说说一座待发掘的宝藏——光纤输出半导体激光器。
光纤输出半导体激光器是通过特殊的光学系统对半导体激光器出射的激光进行光束质量的改善,并在满足光纤耦合的条件后,通过聚焦把激光耦合进光纤进行传输的半导体激光器模块。
Fiber Delivered Direct Diode Laser is a semiconductor laser module that uses a special optical system to improve the beam quality of the laser light emitted by the semiconductor laser. After meeting the fiber coupling conditions, the laser is coupled to the fiber for transmission by focusing.
与其他激光器(气体、固体、光纤激光器)相比,光纤输出半导体激光器有着许多不可比拟的优势:
Compared with other lasers, Fiber Delivered Direct Diode Lasers have many incomparable advantages, for example:
(1) 电—光转换效率高(超过50%);
(2) 工作寿命长(超过10万小时);
(3) 能够直接电调制;
(4) 易于集成、体积小、结构紧凑;
(5) 成本更低。
(1)High electrical-optical conversion efficiency (over 50%).
(2)Long working life (more than 100,000 hours).
(3)Capable of direct electrical modulation.
(4)Easy integration, small size and compact structure
(5)Lower cost.
以激光热源为主体,对锡料填充熔融固化达到连接、导通、加固的工艺效果。优点:非接触,无静电,无空间限制,耗材少,速度快。
The laser heat source is used as the main body to fill and melt the tin material to achieve the process effect of connection, conduction and reinforcement.
Advantages: non-contact, no static electricity, no space limitation, less consumables and fast speed.
Laser Transmission Welding of Plastics
应用中,需要其中一种材料能够透过激光,而另一种材料要吸收激光或者材料表面涂层吸收激光,两种材料需要连接的部分在压力作用下,随着激光束移动形成材料间的连接带。优点:牢固,密封,易控制,可异种材料焊接。
In applications, one of the materials needs to be able to transmit the laser, and the other material must absorb the laser or the surface coating of the material must absorb the laser. The part of the two materials that needs to be connected under pressure acts as the laser beam moves to form a connecting band between the materials.
Advantages: firm, sealed, easy to control, welding of dissimilar materials.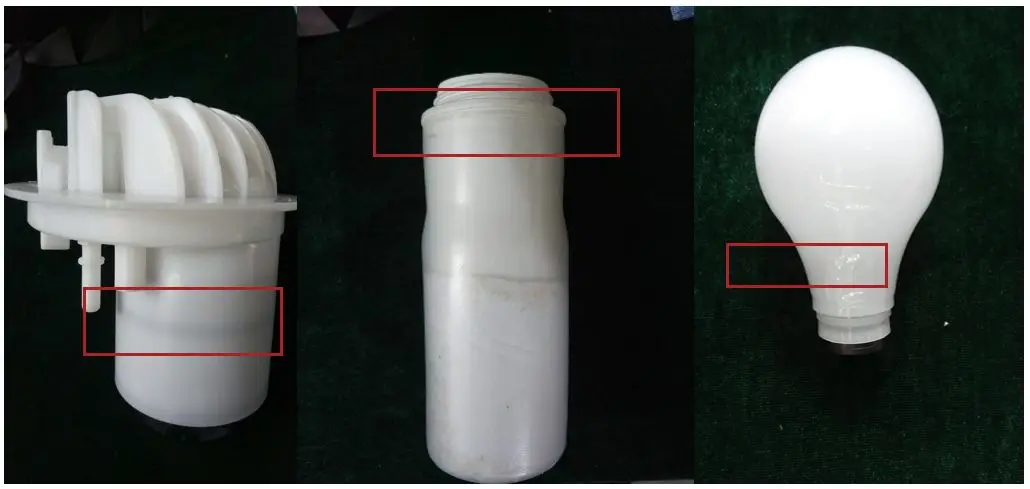 Through Heat Conduction Welding
激光沿着需要连接的轨迹将板材熔化,使两块薄板连接处熔化结合,冷却后形成焊缝。优点:熔池稳定,焊缝平滑。
The laser melts the plate along the track to be connected, melts and joins the joints of the two thin plates, and forms a weld after cooling.
Advantages: stable molten pool and smooth weld.
激光是金属部件进行淬火的理想热源,可以在保持基材的冶金性能不变的前提下提升零件的耐磨性。激光可以在不使得其他区域铁素体发生相变的情况下,灵活地实现部分区域淬火。优点: 激光加热速度快,热影响区小,变形量极小,高效、清洁。
Laser is an ideal heat source for quenching metal parts. It can improve the wear resistance of parts while maintaining the metallurgical properties of the substrate. The laser can flexibly realize the quenching of some regions without causing ferrite phase transformation in other regions.
Advantages: Fast laser heating speed, small heat affected area, minimal deformation, high efficiency and clean.
通常用于在重工业中使用的零部件上,激光熔覆能制造更好的新表面层,以及修复因反复使用而磨损的表面。优点:能够显著改善金属表面的耐磨、耐蚀、耐热、抗氧化等性能。
Generally used on parts used in heavy industry, laser cladding can create better new surface layers and repair surfaces that have been worn away due to repeated use. Advantages: Can significantly improve the wear resistance, corrosion resistance, heat resistance, and oxidation resistance of metal surfaces.
锐科激光自主研发的光纤输出半导体激光器除了具备半导体激光器的众多优点外,还可以实现远距离柔性传输、光束质量好、亮度高、抗干扰能力强、使用方便、输出光斑圆形对称且均匀等特点,因此被广泛应用于各个领域。
In addition to the many advantages of Fiber Delivered Direct Diode Lasers, it can also realize long-distance flexible transmission, good beam quality, high brightness, strong anti-interference ability, convenient use, circular and symmetrical output spot. Because of this, it is widely used in various fields.
光纤输出半导体激光器就像一座宝藏,更多的优势等你发现,更多的应用可以去发掘,更低的成本助你去创造更多利益。
Fiber Delivered Direct Diode Lasers are like a treasure. More advantages and applications are waiting for you to discover and explore.
点击以下视频,观看更多锐科激光光纤输出半导体激光器的加工应用!
The following is the processing application video of Raycus Fiber Delivered Direct Diode Lasers.
Follow our Instagram/Twitter/Facebook/LinkedIn 
by just searching WuhanRaycus



CLOSE