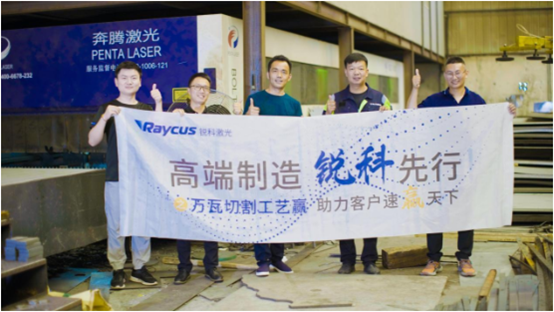 On July 20, WanWa technology Service team from Raycus Fiber Laser Technology Co.,Ltd. (hereinafter referred to as Raycus) arrived in Zhengzhou, Henan Province. On the same day, Zhengzhou suffered a terrible natural disaster due to rainstorm. Owing to the stagnant road and the closed expressway, the group can't visit customers as scheduled. On July 22, after the situation improved, Raycus WanWa Technology Service team immediately rushed at the customer's site - the first stop : Zhengzhou Wanxing Stainless Steel Co., Ltd.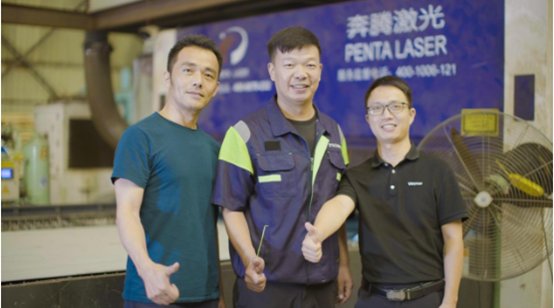 Seizing the opportunity and starting a business resolutely
Zhengzhou Wanxing Stainless Steel Co., Ltd. (hereinafter referred to as Wanxing Stainless Steel) is a sheet metal processing complex integrating raw material supply and metal parts processing. At present, there are three branches with a total operating area of more than 8500 square meters and a total monthly turnover of about 30 million, which is very few in the sheet metal industry in Zhengzhou and even Henan Province.
Li Chunyang, general manager of Wanxing Stainless Steel, is definitely a person with forward-looking and decisive mind. In 2009, as the regional sales manager of Honda, he found that the sheet metal industry was developing rapidly, and so resolutely decided to quit his job and start a business independently, starting from the supply of sheet metal raw materials.
Jumping on new business opportunities from a small spare part
Once, President Li need to help his customer to process several small parts, and then he found a laser cutting factory. The factory manager directly quoted 400 yuan and made him take the goods in a week. He thought that the processing cost of a simple part was not only expensive, but also it had to be arranged in a week? He marveled at the high profit of the laser cutting market, so he immediately decided to do sheet metal processing by himself.
In 2011, domestic laser cutting was still in the ascendant period, and the common maximum power laser in the market was 3kw fiber laser. He felt that" If you decide to do it, try our best to do the best! " . President Li decisively purchased the latest 4000W laser cutting machine, whose sales price was 4 million at that time. With President Li's forward-looking layout and careful operation, his enterprise soon developed better and better.
At present, Wanxing Stainless Steel has raw material processing lines as well as four laser cutting machines, including Penta cutting machine equipped with Raycus 15000W laser, and a Penta 20000 watt cutting device equipped with Raycus laser will soon be bought.
Raycus and Penta give me a sense of security
When it comes to 10000W laser cutting equipment, president Li said: "as the first batch of enterprises buying 10000W equipment, Wanxing Stainless Steel has enjoyed dividends. The processing efficiency has indeed improved a lot, especially for stainless steel and carbon steel with a processing advantage of more than 5mm. In the past, customers always pressed for orders. Now the delivery cycle is shortened and more work can be taken! The 15000W laser equipment of Wanxing Stainless Steel has been used for about 2 years. It often works 24 hours and runs very stably. At the same time, the after-sales engineers and process engineers of Penta Laser and Raycus laser respond very quickly and timely and can quickly solve some small problems.
President Li said that the secret of doing the business is nothing else. He has always adhered to this principle: sincerity, kindness and responsibility. He is deeply convinced that only by giving customers a real sense of security, can he serve customers well and make the enterprise bigger and bigger! Raycus and Penta can also give him the same sense of security. "I believe the national brand will be better and better, and Raycus will be better and better! I always support domestic laser brand! " President Li said firmly.
Fortunately, Wanxing Stainless Steel factory in Zhengzhou was not affected by the rainstorm and resumed production the next day. The Raycus after-sales engineer checked the operation of the laser equipment, and the process engineer carried out process commissioning and training for its operators.
In view of the rainstorm disaster in Henan, Raycus has also launched corresponding preferential policies to help customers in the affected areas and ensure the resumption of work and production as soon as possible.