On the morning of November 24, the 2020 National Model Worker and Advanced Worker Commendation Conference was held in the Great Hall of the People in Beijing. Xi Jinping, General Secretary of the CPC Central Committee, President of the State, and Chairman of the Central Military Commission attended the meeting and delivered an important speech. On behalf of the Party Central Committee and the State Council, he expressed warm congratulations to the commended national labor model and advanced workers. Meanwhile, he extended his sincere greetings to the working class and the broad working masses of our country who have made outstanding contributions to reform, opening up and socialist modernization.
Yan Dapeng, vice chairman and chief engineer of Wuhan Raycus Fiber Laser Technology Co., Ltd., won the honorary title of "National Model Worker". He attended the commendation event with more than 2,000 national model workers and advanced workers from all walks of life across the country, and accepted honors and interviews from the Central Committee of the Communist Party of China and the State Council.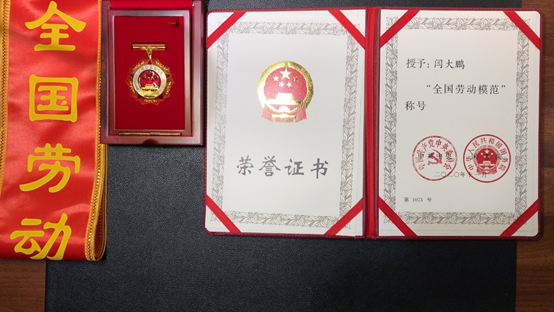 The National Model Worker is the highest praise and encouragement of the Party Central Committee and the State Council to outstanding workers in all walks of life and all fronts across the country, and is the highest honor for workers. From 1950 to 2020, the central government has held 16 national commendation conferences for model workers. After 70 years of vicissitudes, model workers have always been the front runners of the times and the backbone of the times. At this commendation meeting, General Secretary Xi Jinping also once again emphasized the promotion of the spirit of model workers, the spirit of labor, and the spirit of craftsmen, and the construction of a knowledge-based, skilled and innovative labor force. Thereby promoting the realization of the Chinese dream of the great rejuvenation of the Chinese nation and the goal of a new era of building a modern and powerful socialist country.