Since 2013, Raycus has conquered the core technology of 10,000-watt fiber lasers and successfully developed China's first 10,000-watt CW fiber laser. By 2018, the 12000W laser has achieved mass production, and the 20000W fiber laser and its core device research and development projects have passed the expert acceptance organized by the Science and Technology Department of Hubei Province. Raycus has continuously made breakthroughs in high-power continuous fiber lasers. The sales of 12000W lasers are leading domestically and have been well received by users.
At the 2019 The World of Photonics Exhibition in Shanghai, Raycus strongly launched a mature 20000W CW fiber laser. After a year of market verification, all aspects of its performance have achieved very good market feedback. Today we will take a comprehensive look at the three advantages of Raycus 20000W CW fiber laser.
Technological breakthrough and Performance upgrade
Higher power level, realizing the continuous and stable laser power output of the whole machine 20000W, providing higher energy guarantee for industrial processing;
The power density is increased, and the continuous laser power of 20000W is output through a 100μm output optical cable, which has stronger energy penetration and more obvious cutting efficiency advantages;
Improve the efficiency of electro-optical conversion, realize the optical conversion efficiency of the whole machine is not less than 37%, reduce the energy consumption of the laser, and reduce the cost of electricity;
Meet the requirements of European standard safety regulations, safer to use and stronger affinity;
Abundant laser status output functions, a more friendly upper computer human-computer interaction interface, real-time monitoring of the laser and its internal module status;
Increase the Ethernet interface function to provide hardware preparation for future big data collection and analysis;
Further reduce the response time of laser light, the response is faster, and the waiting is reduced;
Increase the waveform editing control mode, which can adapt to more different types of application process requirements, and provide more choices and possibilities for automated intelligent manufacturing;
Increase the slow rise and slow fall function of the laser output laser power, which makes the starting and closing of the knife more stable;
Add laser water temperature monitoring, flow monitoring and other monitoring functions to better protect yourself and make your use more at ease.

Comparison of parameters between Raycus 20000W fiber laser and other competitors
20000W VS 12000W
Efficiency increased by 3 times+
Compared with new technologies, users are more concerned about the improvement of cutting efficiency and the cost reduction brought about by them. Next, we will compare and explain with the digital table.
Cutting speed comparison of carbon steel (oxygen)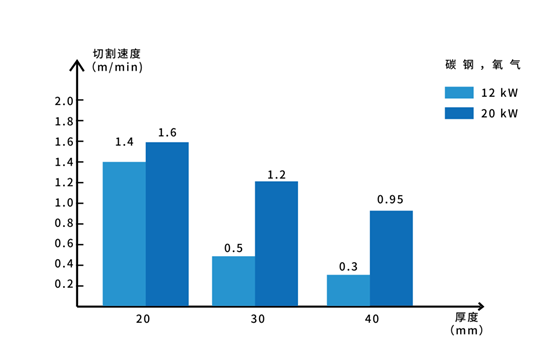 Cutting speed comparison of carbon steel (air)

Cutting speed comparison of stainless steel (nitrogen)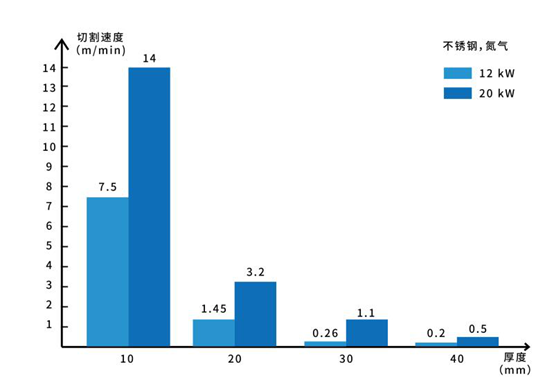 Cutting speed comparison of stainless steel (air)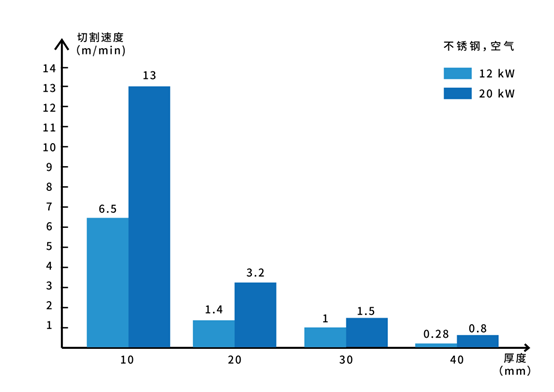 It can be clearly seen that the cutting efficiency of 20000W is significantly better than 12000W for almost all materials and thickness of plates, and the cutting speed is increased by 50-320%. The smaller the material thickness, the advantage is not obvious due to excess power; the larger the thickness, the more obvious the advantage.
At the same time, the increase in power will not only increase the cutting efficiency, but also save you more costs.
Laser processing cost calculation formula
Processing cost per meter: A=(X+Y)/Z (yuan/meter), where
X=laser power consumption + power consumption of machine tools and water coolers (yuan/hour)
Y = gas cost (nitrogen 75 yuan/hour, oxygen 18 yuan/hour, air 15 yuan/hour)
Z=cutting speed (m/h) (available from "m/minx60" in the cutting parameter table)
Take the same cutting 30mm stainless steel (nitrogen) as an example, after a simple calculation.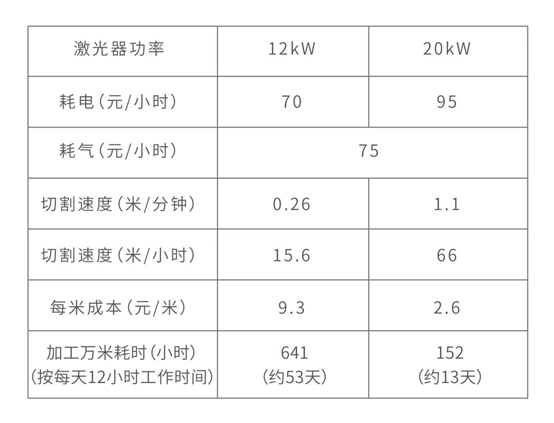 Compared with 12000W, 20000W increases the cutting efficiency by 3 times, saves you more time and costs, and also greatly reduces the processing cost per meter. More importantly, the higher quality end effect after cutting brings you higher product added value.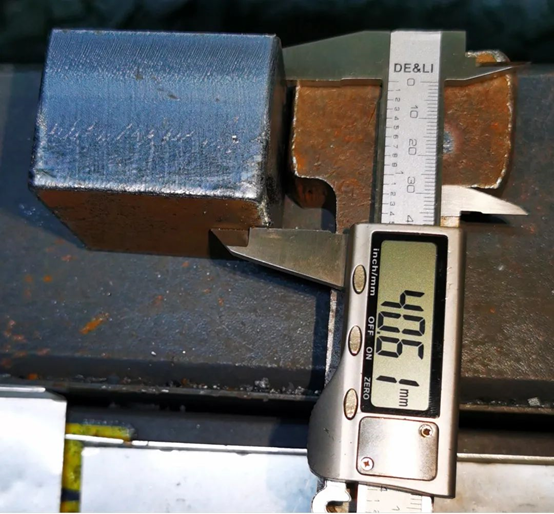 Raycus 20000W Fiber Laser
Oxygen cutting 40mm carbon steel
Raycus 20000W Fiber Laser
Air cutting 20mm carbon steel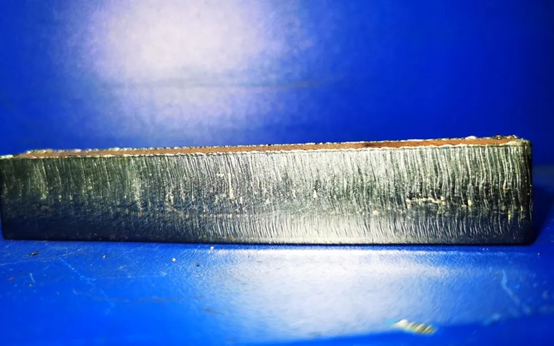 Raycus 20000W Fiber Laser
Air cutting 20mm carbon steel bottom
Powerful expandable function
In order to make Raycus 20000W fiber lasers have wider market applicability and have more diverse processing scenarios, Raycus also specially prepared more options.
It can be equipped with multiple shutters, one machine with multiple functions, allowing your one-time investment to get more applications, higher utilization rates and greater returns.
Equipped with a remote operation and maintenance platform, real-time monitoring, prevent problems before they occur, and cooperate with the big data system to make your use more assured, smooth and comfortable.
Chinese fiber laser processing market 10,000 watts + "battlefield"
Raycus Laser
Be your solid and reliable comrade in arms!