In 2016, when the domestic market was still on the sidelines of laser cleaning, Raycus Laser started from zero, and was the first to start laser cleaning product research and development in China, and cooperated with integrators to continuously develop and improve the research and development of special cleaning lasers and the independent design of cleaning heads.
After several rounds of self-iteration, we have accumulated mature application cases in many industries. Nowadays, the cleaning market has started to explode after several years of brewing, and various industries have begun to explore the use of laser cleaning to empower the industry.
Raycus Laser has realized the laser cleaning field from 0 to 1 in the Chinese market in 5 years. Relying on solid technology accumulation and concentrated research and development with partners, it has been applied in many industries and has been recognized by many customers. Along the way, it has witnessed the rapid rise of China's laser cleaning market. Therefore, when it comes to laser cleaning, Raycus comes to mind.
In the first quarter of this year, Raycus's market demand for cleaning lasers further increased, with shipments increasing by 251% year-on-year, including multiple 500W and 1000W units. Only last week, more than 60 units were shipped, and a new batch of 200W will be shipped soon.
Now that the orders are full, we are speeding up production capacity and shortening the lead time as much as possible.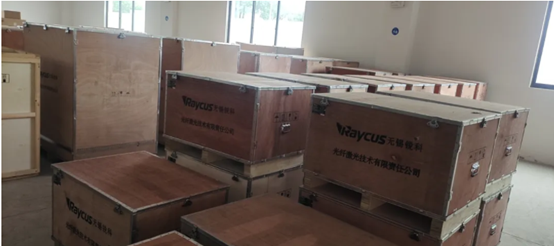 Laser cleaning will eventually dominate the global cleaning market
Although laser cleaning cannot completely replace traditional cleaning technology, with the advancement of science and technology and the improvement of environmental protection requirements, laser cleaning will eventually dominate the global cleaning market. By developing new laser cleaning systems and equipment and optimizing the cleaning process, the cleaning efficiency is improved, the cleaning cost is reduced, the damage to the surface to be cleaned and the injury to the operators are reduced, and the green, efficient and automated metal surface cleaning process is realized.
Raycus Laser launched the 200W-2000W pulsed special cleaning laser for the laser cleaning field. It has performance in many fields such as tire mold cleaning, high-speed rail wheel sets, locomotive body cleaning, ship cleaning, cleaning before and after welding of automobiles and parts, and cleaning before welding of lithium batteries.